Our Region
Alto Adige is blessed with a diverse and rich landscape: various microclimates, exceptional soil composition and wine growing on slopes with different inclinations, at multiple altitudes and exposures. The wines it brings forth have a strong identity, invoking memorable emotions.
The small village of Tramin is located 100 miles north of Verona, in the heart of the Italian Alps.
Here, at elevations between 250 and 850m above sea level, the winegrowers of Cantina Tramin produce the grapes for our wines with passion and dedication. Their most important allies are the cool winds descending from the surrounding mountains during nighttime and the warm Ora wind from Lake Garda starting in the afternoon that cause the daily temperature swings our grapes love. Soil morphology plays another crucial role: this area is blessed with an advantageous combination of clay, gravel, limestone and porphyry.
Highly calcareous soils contribute particularly to rich Chardonnays and Pinot grigios, whereas the medium to high elevations on which Gewürztraminer thrives determine its unmistakable aromas. A rare find in Alto Adige are the warm vineyards located towards Kurtatsch, where Cabernet and Merlot reach full maturity.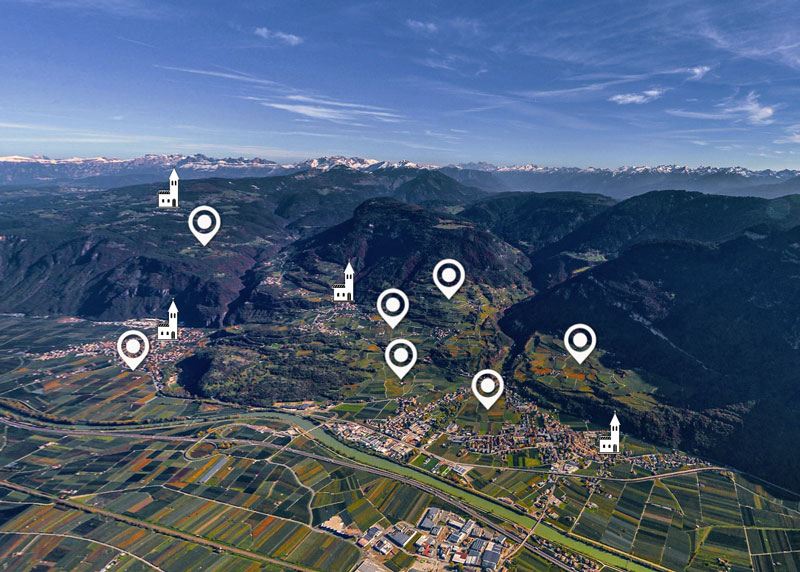 On the opposite side of the valley, on the eastern slopes, you find the vineyards of our producers from Neumarkt and Montan.
Here, in the hamlets of Mazon and Glen, the stronghold of Pinot Noir, our most elegant expressions of this grape are born. Finally, in Auer, the undisputed king of red wine is Lagrein, Alto Adige's autochthonous red grape par excellence.
Small plots and the direct involvement of each single producer allow us to act and react appropriately and immediately, respecting the needs and peculiarities of each micro-area.
The strength of our cooperative system lies in the fact that we can react promptly and individually at the most delicate stages of the growth cycle. We can minutely plan vineyard work like harvest, leaf removal, organic fertilization or sowing flowers and plants for ground vegetation, when just one day's difference can have a significant impact on the fragrance and intensity of the aromas.